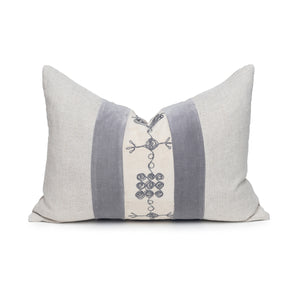 Description:
This beautiful Ula Vintage Aso Oke chunky striped pillow is a neutral design that adds an elegant touch. A chic accent to any space—perfect on its own or to mix and match with other colors and patterns. Our Luxurious vintage textiles offers soul, with the added bonus of being chic and eco-friendly. Adorn your home in style with sustainable, handcrafted pillows.
Details:
Front: Vintage Aso Oke textile from Africa, 100% Topanga linen in Natural, & Cotton Velvet.
 Back:Sustainable eco friendly 100% natural linen fabric.
Down Insert
14" x 20"